HI, I'm back. I did not take the digital camera so pictures will be posted later this week. Bob not only got the scanner working while I was gone but the color printer too! What a good man he is. On the roll I am dropping off at the drugstore today are also the pictures from the previous weekend trip to Easley.

Now for the part you have all been waiting for. They don't call it Hot-lanta for nothing let me tell you. It was hot and humid as I knew it would be. But I digress from the story.

The ride down was perfect. I left around noon to give me plenty of time for an easy drive and stop off in Aiken, SC for the home visit. Lovely couple, they have two smooth coat BC's and want to get a couple of more. They live in a secluded neighborhood at the end of the city limits with a lot of land and places to bike ride. I made to their house right at 4:00 as I predicted. After a brief visit I hopped back on I-20 for a quick twenty mile drive across the SC/GA state line and stopped in Augusta for dinner and gas. I actually rode by the backside of the famous golf course.

I chose Barrabas to eat dinner and a good choice it was. Grilled lamb chops, potato wedges and broccoli with delicious bread. Tea to drink since I was driving. I left Augusta sometime after six with plenty of time to get into Atlanta. Unfortunately road construction prevented me from getting off at the I-285 bypass and I had to drive on into Atlanta to get on I-85 to get to the airport. I was listening to the race from Daytona on the radio and felt like I was right there with them as I was driving on the interstate with cars whizzing past on both sides doing well over 80 while darting from lane to lane while I was trying to find my lane to get onto I-85.

I arrived at the airport around 9:00, parked in the lot and made my way into the terminal. As you all know, I do not fly so negotiating an airport terminal as large as Atlanta International was an experience. I popped into a sports bar briefly to check to see who was leading the race than started the long trek to the find the gate where Marcia would be arriving.

After going through security I negotiated several escalators, walked several blocks, and finally arrived at D1 at the end of that wing of the terminal about ten minutes before she was scheduled to touchdown. It turns out the plane was ten minutes late which was not bad at all. We recognized each other instantly from our wonderful pictures posted on our web pages and did all the greeting rituals. Afterward we backtracked my journey to the luggage claim area where I entered the terminal. It look an entire hour from time Marcia walked into the terminal until we got her luggage and left for the car. It was about a twenty-five or thirty minute drive from the airport back North of Atlanta to the hotel. We arrived hot and sweaty well before midnight, parked the car in the hotel parking deck and found our room.

Very nice suite. We unpacked and sat up talking for a while. Finally off to sleep around 1:30. Marcia left a wakeup call for 8 the next morning. We showered and dressed and made our way down to the lobby for a very nice continental breakfast. I had a bagel and a doughnut with juice. We then set out for the nearby MARTA station based on the directions from the girl at the front desk. After going up and back down the wrong set of stairs we then found the correct ones and walked the several blocks across a shopping center parking lot to the MARTA station located under a parking deck.

It was not very crowded as we rode in. We got off at the Five Points stop, which is basically the center of downtown. We walked four blocks to Olympic park where we took turns taking pictures of each other. Very nice park with some interesting waterfalls. We popped into a nearby refreshment stand to get some water and directions from a very nice young policeman on how to negotiate our way to the Coca Cola Museum.

It was hot and steamy by the time we got to the Museum. We shopped in the souvenir shop for a while and then walked across the street to enter the Underground. Atlanta Underground is pretty cool, lots of shops and restaurants to stroll in and out of as you walk along the "street". In the middle of the street are vendor carts selling t-shirts, etc.

One of the carts sold teddy bears who were not stuffed. You picked out your favorite and then stuffed it yourself. Atop the cart was a little teddy bear turning a crank that blew out the stuffing. After I chose my bear I went around the other side of the cart and pressed a pedal as the lady filled the skin and my bear came alive. Marcia has pictures of the process and I took one of the bear turning the crank if it took. I then chose a felt heart for my bear, made a wish, and he was stitched up right there before my eyes. I chose a blue ribbon and he was placed in his own "cradle looking box" with his birth certificate. I bought him for Bob. Bob gets to name him. I think as of last night he had chosen Ursa Major and we will nick name him Major. Here's a picture of Lenore meeting Major.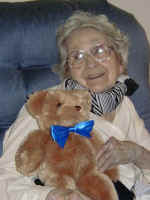 Marcia bought a t-shirt and some other stuff I will let her tell you about. We finished up the Underground and decided to go back out to the hotel and Perimeter Center Mall via MARTA. First we ate lunch so I could be fortified for the Marcia shopping expedition. A very successful one I might add. I did buy a new Stevie Nicks CD but needed to leave my hands free to help Marcia carry some of her packages.
We finished up our shopping and proceeded to try to find the other shopping center we crossed to get to the MARTA station. However, the Mall stop and the hotel stop are two different places. After asking several people where the Starbucks Cafe was and getting totally blank stares we realized something was wrong. We finally stopped at the catalog department of J C Penny to borrow a phone book while Marcia got out her phone to call the hotel and find out where the hell we were. The hotel sent their shuttled bus over to the Mall to pick us up and we arrived back at the hotel again hot and sweaty around 3:30.
After leaving dinner and taxi reservation requests with the front desk we headed up to the room. Marcia took a quick nap while I read the paper and watched the golf match. Then, I took another shower to dress for dinner. The taxi took us back downtown to Pittypat's Porch for a wonderful meal. We both ate the mixed grill of chicken, pork, and steak in a wonderful wine/mustard sauce served over rice with bread and salad bar and a couple of glasses of wine.
After dinner we walked back to the same MARTA station we departed from that morning. Poor Marcia. That morning we had to go up an escalator from the MARTA to the street that was almost at a fifty degree angle and probably three or four stories high. Well, we had to go back down that same escalator to get to the Marta. I have a picture if it comes out. She held on my arm so hard I lost most of the circulation and I am sure her fingernail imprints could be found on the railing on her side. I am exaggerating a bit. I was very steep and she handled it very well.
We sat in the bar area of the hotel and had another couple of glasses of wine before heading up to the room to get ready for bed. Marcia was up early the next morning when the 7 am wake up call woke me up. We went down for breakfast and then came back up to get my things and head for the car. I dropped her off at her office building and I took off north for home.
Just so happens the I-285 exit I needed was just around the corner and already being north of Atlanta I did not have much in the way of rush hour traffic going my way. I was quickly onto I-85, making a quick bathroom stop at the GA/SC line before making it to Spartanburg by noon. I stopped at a Fatz Cafe for lunch and got gas before hitting the road home, arriving right around 4:00. We ordered Chinese take out for dinner. I spent most of the evening catching up on mail and then watched the end of the race that Bob had taped for me. How nice that Dale Jr. won the race where his father was killed back in February.
Off to bed around ten, I fell asleep pretty quickly. Gym this morning than I need to mow the grass this afternoon. I may vacuum the floors just to get the dog hair and stuff up but Bob kept the house pretty neat while I was gone.
[Top]