---
Barbara Fritchman Thompson Diary

Week of 23 April 2007

Latest Update: Sunday, 29 April 2007 6:00 p.m.
---
Monday, 23 April 2007
---
After a busy weekend and a busy day I found an excellent way to spend a relaxing evening. After getting my haircut I drove over to a the nearby strip mall type shopping center to go to Borders. In a very quiet and relaxing atmosphere I munched on a cheese stuffed pretzel and read my own library book. Then I spent a relaxing half hour or so browsing around the book store. I cannot go in a bookstore and just pick up what I went after. Instead, I always find something on the bargain shelf or the mystery shelf, etc.

It was another beautiful day, the last one for awhile. I think we have rain moving in tomorrow at some point. I walked a lunch then sat out on the bench and read.

Last night after dinner I took the dogs out back for a visit with Stephanie and the kids. We stay for about half an hour before I needed to come in to check my e-mail and web pages. I was barely able to keep awake and upright by 8:15. We walked the dogs early. I was in bed by 8:45, read for about half an hour and turned out the light.
---
Tuesday, 24 April 2007
---
I forgot to tell Bob to publish my page last night after I finished writing. Sometimes he fixes my new pages for the week in the morning and others he does it right before I am ready to post. When he does the latter, he goes ahead and publishes a blank page then I do my thing and republish. Yesterday he prepared this weeks journal page in the morning. I published last night but forgot to tell him to publish it up to the server.

I finished the Beaumont mystery last night. Next up will most likely be another J. A. Jance, Joanna Brady. I am working through lunch today through Thursday in order to be able to leave at 2 on Thursday.

Tomorrow night Bob and I will go over the library after work to help set up for the upcoming book sale which starts Thursday afternoon with the preview for Friends members only. I am taking off early Thursday to have my car serviced and then go over to the preview to help out and take some pictures.



[Top]
---
Wednesday, 25 April 2007
---

Several weeks ago mystery author Elaine Viets had a stroke. She was just starting a full promotion tour for her new book. As with many professions, the mystery author community rallys around when one of their own go down. Mystery author Jan Burke has organized several options for the authors and readers to help out while she recuperates.

Bob and I are doing our part by putting up a picture of book cover and publication information.(See below). If you would like to help you may follow Jan's suggestions found on her agents web site Breakthrough Promotions. Please share this information with your friends or post Elaine's story on your own blog.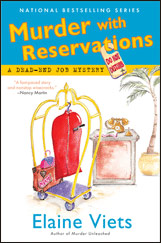 Here's the publication information:

Murder with Reservations: A Dead-End Job Mystery
By Elaine Viets
NAL Hardcover. $21.95
ISBN: 0-451-22111-7
On sale May 1, 2007
(preorders accepted any time by your favorite bookstores)

Borders
Barnes and Noble





[Top]
---
Thursday, 26 April 2007
[Last Week] [Monday] [Tuesday] [Wednesday] [Thursday] [Friday] [Saturday] [Sunday] [Next Week]

---
I just don't think I can get any busier. I left work at 2:00 to drive out to our mechanics to get my trooper serviced. I was due at the library at 4 to take pictures of the first day of the book sale. I finished up at the garage at three which put me at home by 3:15. Rather than waste 40 minutes I decided to fire up the mower to get that chore out of the way.

It has looked like rain off and on all afternoon. I was afraid that by the time I got home from the library a storm would blow up before I could get the lawn mowed. I finished up mowing at 4:10, jumped back in the car for the short drive over to the library. After taking a few pictures and talking over Friends business with several members I came back home to let the dogs out. Bob had been over at our friend Mary's house all afternoon helping her with a computer problem.

Turns out he beat me home and had the dogs down at Kim's sitting out front visiting. I walked down for a short visit then Malcolm and I came back home. Stephanie, Mimi, and the kids were out back so Malcolm and I stopped over there for a visit.

We all finally made it back home to fix left overs for dinner. It has yet to rain but at least I have the mowing out of the way. Tomorrow will be a very interesting day at work. More at that tomorrow night.





[Top]
---
Friday, 27 April 2007
[Last Week] [Monday] [Tuesday] [Wednesday] [Thursday] [Friday] [Saturday] [Sunday] [Next Week]

---
Drew and I had to go off site today but not to our off site storage company. Instead, we out in the country on a 440 acre farm sorting files stored in a tobacco barn.

The Firm has a client who passed away last year. Hundreds of boxes containing his work related material were being stored at an off site storage company. Recently a decision was made by the family to move these boxes to several metal and wood tobacco barns on a small area of the farm. The two metal and one wood barn were clean up and prepared for the incoming boxes. Pallets were laid on the floor to stack the boxes. Steve was out at the farm earlier this week supervising the organizing and placement of the boxes into the barns.

Turns out three barns were not enough. At the last minute the movers had to dump about 150 boxes into a smaller barn. Drew and I were sent out this morning to organize those boxes and inventory their contents. Thankfully, is was overcast and cool this morning with a pretty good breeze coming in through the propped open door. Even so, it was hot, dirty work making our off site storage facility look like a 5 star hotel.

Steve drove me out to the farm yesterday to both show me how to get there and to look at what we would be dealing with. This gave me time to come up with a game plan. We had to shift boxes around to not only organize the material but also make room to move around on the pallets. We finished up by 12:30 then went to lunch before heading back to the office. We were about 20 east of Winston in a very pretty area.

Speaking of rain. We did get a little rain over night but not very much. It has looked like rain off and on all day and early this evening but so far the showers have stayed away.





[Top]
---
Saturday, 28 March 2007
[Last Week] [Monday] [Tuesday] [Wednesday] [Thursday] [Friday] [Saturday] [Sunday] [Next Week]

---
Bob and the dogs let me sleep in until 8:30 which I needed. This morning was devoted to getting the house cleaned and things put away. Then the dogs got their spring bath. As I have said many times, bathing them is a major chore having to fight them in the shower.

This afternoon I am heading over to the library to work the book sale from 2 to 5. I think I have time to get my ironing done before I go. Last night I finished up the Joanna Brady by J.A. Jance and started a new Joan Hess. I love her Clair Malloy series for some good "laugh out loud" reading.

Another beautiful day in the triad. It is to only get into the high 70's with a very decent breeze.



[Top]
---
Sunday, 29 April 2007
[Last Week] [Monday] [Tuesday] [Wednesday] [Thursday] [Friday] [Saturday] [Sunday] [Next Week]

---

Another lovely Sunday morning for golf. A little cool when we first teed off but it warmed up quickly. The promised 10 to 20 mph winds kicked up while we were playing the back nine but we only had four holes left to play. Warm or cold, I am not much of a wind player. Dad hit the ball pretty well today as did I.

After lunch I helped him moved some flower pots around so he could plant his geraniums. I tried to work on the one flower bed left to clear but it was way too much work for an afternoon after playing golf. I will have to tackle that bed and the bank as a full day project.

Back home, I let the dogs out. Bob was over at Paul and Mary's doing computer stuff. I took them down to visit Oscar and Trudy for a few minutes. It was pretty closed to 80 degrees by this time. After I put them back in the house I planted the bush I brought home last week from dads and a couple of plants he gave me.

After a shower I called Bob to let him know I was home then worked on paying bills and reading mail. That's about it for today.




[Top]
---
Copyright © 1998, 1999, 2000, 2001, 2002, 2003, 2004, 2005, 2006, 2007 by Barbara Fritchman Thompson. All Rights Reserved.