---


Barbara Fritchman Thompson Diary

Week of 17 August 2009

Latest Update: Saturday 23 August 2009 3:20 p.m.
---
Monday, 17 August 2009
---
We left our house on Wednesday around 9am. Our first destination was West Jefferson, a small town north west about 2 hours away. We walked around town going in and out shops then grabbed lunch at one of the downtown local pizza places, Brickstone Pizza. From there it was a short drive to Boone, NC were I went to college at ASU. We went to Mast General Store downtown and I stopped in one of the ASU stores for a new t-shirt. We then went searching for Cheap Joe's just outside downtown, a painting supply outlet store where Bonnie picked up some craft stuff.

From there we hit the Blue Ridge Parkway. The speed limit is 45, 35. We stopped at overlooks along the way to enjoy the view. It was close to 6pm by the time we got to Asheville, NC. By the time we ate dinner and found a hotel it was around 8pm.

The next morning we were once again on our way by 9. First stop was the Folk Art Center . Bonnie has several different craft hobbies including woodworking and quilting. The crafts here were very nice but also pretty pricey.


We left there for the short drive down the Parkway to the North Carolina Arboretum. We spent three hours walking the grounds. The quilt garden is one of the many different types of gardens on display. The flowers that make up the design are changed based on the season and what is in bloom.

One level of the Bonsai garden. The shelf running along the back wall represents a few of the bonsai's. The walkway progresses upward in a spiral with bonsai plants on each wall. Walkways and bridges are lined with other plants, rock gardens, etc.The bonsai plants are also rotated in and out.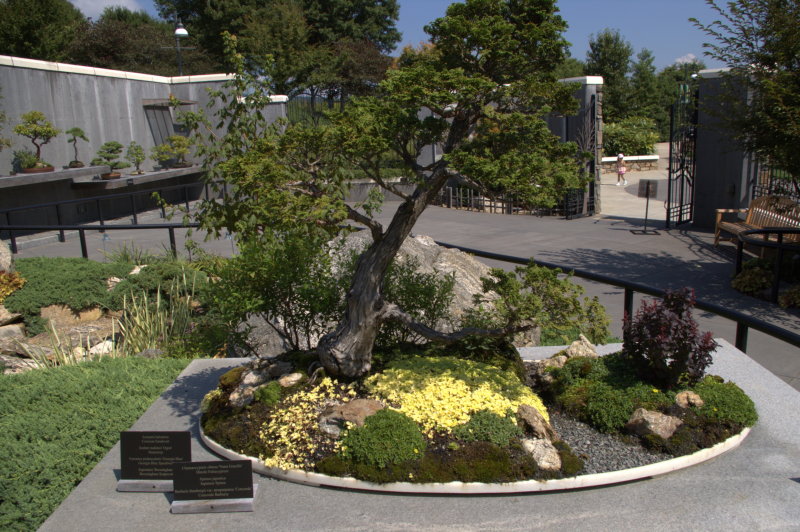 Looking Glass Falls in the Pisgah National Forest. We took Hwy. 276 off the Blue Ridge Parkway for a ride through the Forest and to get gas in Brevard, NC before retracing our route back on the Parkway. Further down we stopped at the Pisgah Inn for a delicious lunch. From there we drove on to the end of the Parkway which exits into Cherokee, NC. Dinner at Paul's Family Restaurant. I had mountain brook trout for the first time. From there we drove on to Bryson City, NC. Once again it was about 8pm by the time we found a place and got checked in.
One of the many sites we saw along the Blue Ridge. When you see pictures of the Parkway this is generally the type of scenery pictured.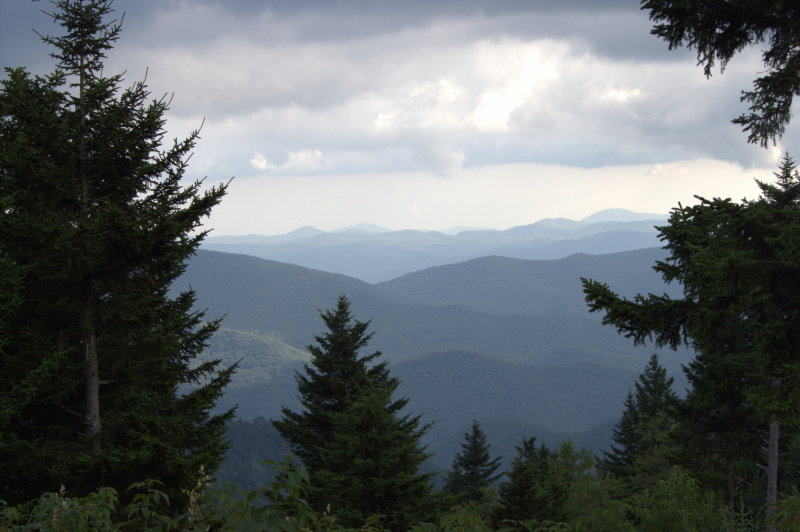 Friday we were off again at 9 heading east on Hwy. 64 known for the beautiful scenery and small town. We drove through the Nantahala National Forest to Murphy, NC where we stopped at the John C. Campbell Folk School. Bonnie has taken several classes here in past summers. We walked around the grounds and visited some of the craft classes in session. From there it was on to Hayesville, NC where I found a genuine small town book shop, Phillips and Lloyd, where I found an author I had been looking for. And, small world, the owners used to live in Winston-Salem. We ate lunch and had ice cream at the soda shop before heading on to Hendersonville, NC.
We found a hotel before heading uptown to shop and eat. For our grand finale we ate at Flight Wood Grill, great food. After walking around downtown for an hour or so we got back to the hotel about 9m. Off again the next morning we stayed on hwy. 64 making it to Morganton for lunch at a local diner then picking up the Interstate for home.
I left work at 4 today to pick up my new glasses. They will take some getting used to. I have new progressive lenses called Definity. I now have brown plastic frames instead of wire rims I have been wearing the last few years. Hopefully these will stand up to my harsh wear and tear.
[Top]
---
Tuesday, 18 August 2009
---
Last night I wrote up the description of the pictures and the trip. For some reason I forgot to publish. Anyway, check out all the links etc.

I am reading another Lumby Lines book by Gail Fraser, Lumby's Bounty. This is the book I found at the little bookshop in Hayesville. They ordered the fourth and most recent one in the series and are sending it to me when it comes in.

We are watching the pilot episode of The Sons of Anarchy. Yes, I requested it, mainly for Bob. One of my co-workers recommended it to me when we got to talking about watching Jericho. Anarchy has an actress from Jericho and one from Mad Men. It's a about a motorcycle gang. I love biker music, such as Seger, ZZ Top, etc. So far we are enjoying it. Bonnie and I saw a lot of bikes on our trip, everything from gangs to middle class America on Honda Gold Wings.




[Top]
---
Wednesday, 19 August 2009
---
No update.





[Top]
---
Thursday, 20 August 2009
[Last Week] [Monday] [Tuesday] [Wednesday] [Thursday] [Friday] [Saturday] [Sunday] [Next Week]

---

No update.




[Top]
---
Friday 21 August 2009
[Last Week] [Monday] [Tuesday] [Wednesday] [Thursday] [Friday] [Saturday] [Sunday] [Next Week]

---

No update.




[Top]
---
Saturday, 22 August 2009
[Last Week] [Monday] [Tuesday] [Wednesday] [Thursday] [Friday] [Saturday] [Sunday] [Next Week]

---
Gosh, where did this week go? Gym Wednesday night, run by the drugstore to pick up a prescription and upload my pictures from CD to be printed. Thursday night I stopped by on the way home to pick them up. Last night I went out to Pet Smart after work since I am halfway there on my home anyway.

Caring for Duncan also takes up a great deal of both mine and Bob's time. It is very much like having an elderly person to care for. A week or so ago I noticed a red, raw place on his right hip and one on his right knee. I checked them both to make sure they were just red from where he lies on them all day. He prefers to lie on that side, I guess because it is more comfortable. He also skids around on that side when he tried to get up. I put antibiotic cream on them just be safe.

Last night after we ate dinner I noticed the place on his hip looked worse. I am not sure if he fell on the spot or if he rubbed it raw on one of the rugs he lies on in the bathroom. He had a deep open sore on the bone of the hip. The area around it was pretty red and swollen. He also had a bad place on his right elbow I had not noticed before. We gave him a small piece of the tranquilizer we are using at night to keep him calm otherwise he fights me if I try to "work" on him. After he settled down I put antibiotic cream on his hip, elbow, and knee. I was able to wrap the elbow. I tried wrapping the knee but the place is too high up to keep the vet wrap in place. We tried a sock with the toe cut out. I vet wrapped it but it will not stay up either.

Today we are keeping him sedated enough to keep him lying around, especially if I can keep him on his left side off that hip. We had already put him an oral antibiotic for his UTI but it may not touch the infection I am sure is in his hip. We can at least keep him comfortable until Monday then take him to the vet to see what he says.

I cleaned house this morning including mopping the kitchen and bathroom floors. Bob washed my work clothes and our white and dark load and is now babysitting a load of Duncan throw rugs to make sure they don't get unbalanced.

We had a very brief shower this morning, just enough to wet the pavement. Things are looking very dry around here. Both the front and back yard are covered in leaves already and it is not even September.




[Top]
---
Sunday, 23 August 2009
[Last Week] [Monday] [Tuesday] [Wednesday] [Thursday] [Friday] [Saturday] [Sunday] [Next Week]

---
Duncan is doing better. I took the wrap off his elbow this morning. Both it and his hip are much improved.

I caught my ironing this morning. Took a break for lunch then tackled the yard. I fired up the big green leaf machine to do the driveway and the front yard where the leaves had fallen so thick then I mowed. The Bermuda was high. What is left of green grass had grown some but not much. I mowed up mostly leaves in the back. I left the natural areas for another day.

The PGA stop is just down the road in Greensboro this week. They have been plagued with torrential rains and thunderstorms all of which has basically missed us. Once the sun goes down in the front I will water my little gardens.





[Top]
---
Copyright © 1998, 1999, 2000, 2001, 2002, 2003, 2004, 2005, 2006, 2007, 2008, 2009 by Barbara Fritchman Thompson. All Rights Reserved.