---


Barbara Fritchman Thompson Diary

Week of 7 September 2009

Latest Update: Sunday, 13 September 2009 2:30 p.m.
---
Monday, 7 September 2009
---
Happy Labor Day. This morning I caught up on my ironing and helped Bob do some cleaning up in the lab and finished area of the downstairs. I did some clean up and organizing in my office this afternoon.
That's it for today. Rest, reading, and watching some golf and tennis. Cookout later on.
It is another nice day with cool temperatures and a nice breeze. Sadly, no major rain in the immediate forecast, which we really need.

[Top]
---
Tuesday, 8 September 2009
---
No update.





[Top]
---
Wednesday, 9 September 2009
---
We had a great time at Frances and Al's for our Labor Day cookout. Lots of good food and conversation. I met my friends Betsy and Nancy for dinner last night leaving Bob and Malcolm at home enjoying leftovers from Monday. Tonight was gym night. We finished up the what was remaining of the macaroni salad, baked beans, and slaw for dinner.

Very busy yesterday and today playing catch up from being off Friday. I am trying to wrap up several ongoing projects because I have a couple of new ones to dive into starting tomorrow.

I am still reading Dialogs of the Dead. Hill's books, which are usually 3 to 4 hundred pages anyway, always take me a little longer to read than some of my other authors. This one features a couple of librarian's as main characters who get involved in the investigation of a serial killer via a short story contest put on my the local newspaper.

Still cool weather for this time of year and no rain. It rained all around us last night and again today but it missed us completely.




[Top]
---
Thursday, 10 September 2009
[Last Week] [Monday] [Tuesday] [Wednesday] [Thursday] [Friday] [Saturday] [Sunday] [Next Week]

---
Bob and I have been married 26 years today. We decided not to do anything special. I fixed one of our favorite meals, fried chicken and mashed potatoes. We started watching a movie during dinner. Now that we have walked cleaned up the kitchen and walked Malcolm we can continue. We may have time to watch an episode of one our ongoing series before bedtime.




[Top]
---
Friday 11 September 2009
[Last Week] [Monday] [Tuesday] [Wednesday] [Thursday] [Friday] [Saturday] [Sunday] [Next Week]

---
No update.





[Top]
---
Saturday, 12 September 2009
[Last Week] [Monday] [Tuesday] [Wednesday] [Thursday] [Friday] [Saturday] [Sunday] [Next Week]

---
Finally! First thing I tackled this morning was what remained of the red tip I had been trying to dig up for the last month. Actually I had not worked on it for several weeks. One of the problems I had early on was it being so muddy and wet it was hard to dig around and get the mattock into the root.

After a little more digging out and a couple of chops to the now exposed tap root I was able to wiggle it like a loose tooth back and forth until I finally broke it off pulling free. I drug it up the hill to put on the curb to be picked up by the brush truck then ran in the house to announce my triumph to Bob who declared a picture was in order as if I had landed a huge fish. Malcolm is equally as pleased. It it now only 9:30 and we both look as if we have been going at it for hours.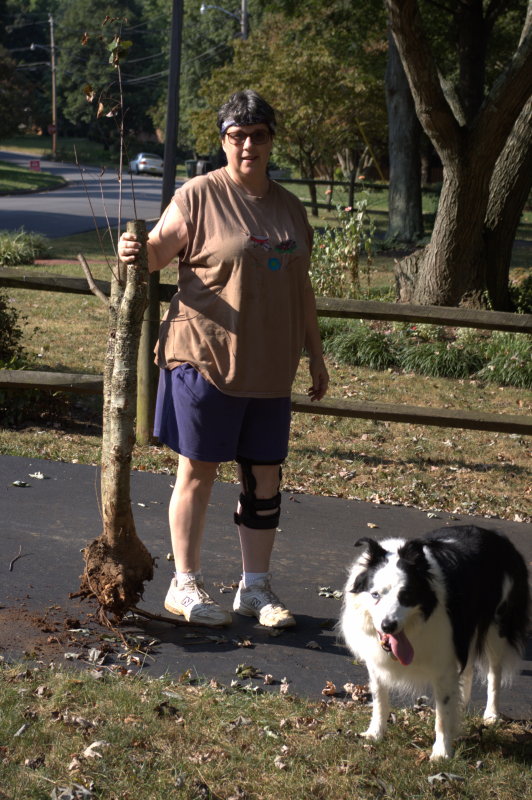 Note the dried grass in the neighbor's yard and at my feet. After that triumph Bob bravely put the extension ladder up to the kitchen window to crow bar off the house the two rotted shutters. When Bob painted them for me last year one of the slats was already loose and hanging. Last weekend when I tried to wash it down two more slats on the one came loose. With that being the only window on that side of the house it looks better without a shutter than with the rotten one hanging. At some point we will replace them all.

Malcolm and I continued in the yard. I pulled up most of the leggy, dying annuals in two front gardens. I left some that looked good enough, once I water them later this afternoon, until I pull everything up for fall planting. I edged and did a few other minor tasks before taking a lunch break. I decided whatever seed was still on the ground was about dried out by now so I mowed the lawn with the bagger to get the leaves and dead grass. Once, and if we get a couple of days of good rain, I will hand throw out some more.

Now, time to rest, read, and watch some tennis, golf. Later I need to sweep the walk and water the plants.


[Top]
---
Sunday, 13 September 2009
[Last Week] [Monday] [Tuesday] [Wednesday] [Thursday] [Friday] [Saturday] [Sunday] [Next Week]

---
House cleaning this morning before heading off to my parents house. They had some yard projects needing taken care of. I pulled up his tomato vines, dug up a couple of dead bushes, and planted some bulbs. It was yet another beautiful day to be outside especially in the shade. The temperatures are still in the low 80's, though the humidity is around 40%, with a really nice cool breeze.

I finally finished the Reginald Hill and am getting ready to start a new Rhys Bowen, Royal Flush, in her Royal Spyness series this afternoon.





[Top]
---
Copyright © 1998, 1999, 2000, 2001, 2002, 2003, 2004, 2005, 2006, 2007, 2008, 2009 by Barbara Fritchman Thompson. All Rights Reserved.