---


Barbara Fritchman Thompson Diary

Week of 14 December 2009

Latest Update: Sunday, 20 December 2009 2:20 p.m.
---
Monday, 14 December 2009
---
Costco yesterday afternoon with Paul and Mary. The rain had stopped but when we came out of Costco, around 5:30 we had dense fog. On to dinner then take them home to unload their stuff. We had a bigger than usual load since we had run out of a lot of stuff. Even so, I still had to make a quick grocery store run tonight to pick up milk and a few other things. We are now pretty much restocked.

Bob finally had a minute to download my pictures. I really took this picture to show off our new lamps. That's the floor model behind where I sit. Bob's look's just like it but shorter for a table top. The other floor lamp is by the love seat. Next down, the living room, and last but not least, Bob the penguin before I got the leaves up. He's very cute lite up at night.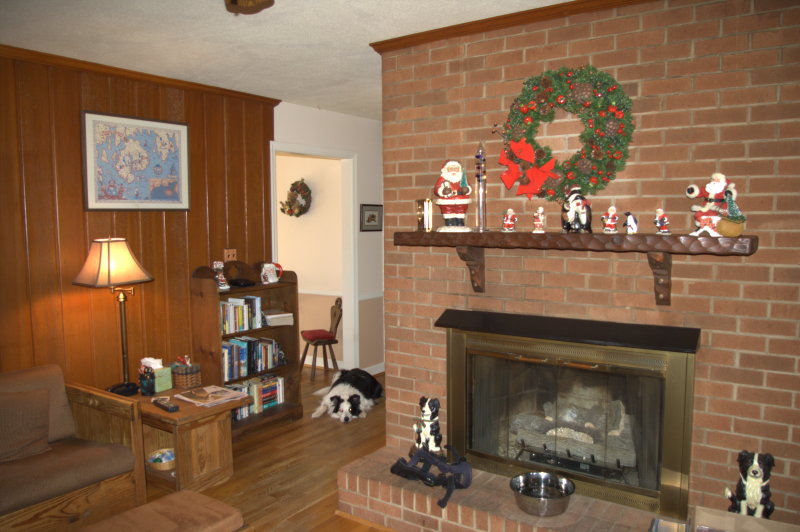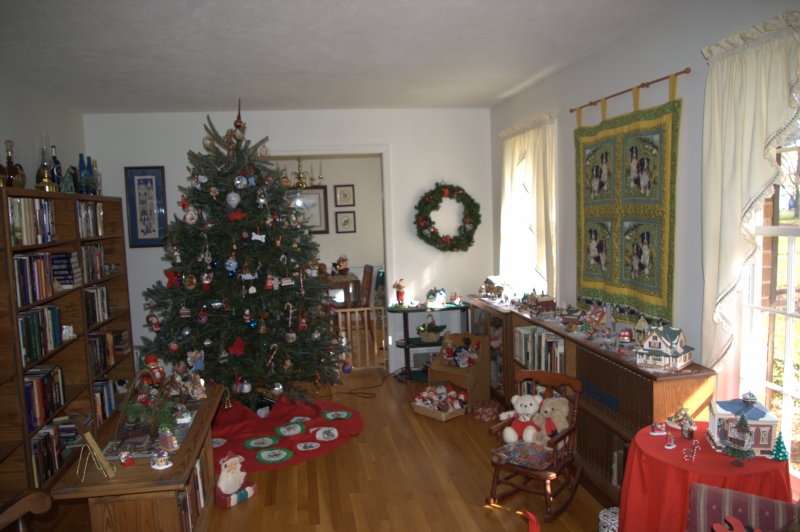 [Top]
---
Tuesday, 15 December 2009
---
Foggy again this morning. I also warmed up nicely, low to mid 50's when Marcy and I walked up the street for lunch.

I finished the Margaret Maron last night. Tonight I am starting another Sister Frevisse, The Prioriess' Tale.

Saturday night we were watching, or trying to watch, a DVD when it started skipping again. This time we knew it wasn't the disc. Sunday was swapped out both the old DVD players and Bob hooked up the new one he ordered as a Christmas gift for us. Works like a charm. We've been watching more House and Kavanagh QC.





[Top]
---
Wednesday, 16 December 2009
---
No update.





[Top]
---
Thursday, 17 December 2009
[Last Week] [Monday] [Tuesday] [Wednesday] [Thursday] [Friday] [Saturday] [Sunday] [Next Week]

---
Busy, busy at work as we try to finish up stuff before the holidays/end of the year. I have started walking at lunch time again. I quit because my knee. Oh well, too bad. I told a friend at work today that I am going walking at lunch regardless of whether or not my knee wanted me to. With no yard/lawn activities for the next few months I need to get more exercise than gym twice a week and walking Malcolm up and down the street.

The weather folks started predicting yesterday a mix of snow/rain for Friday and maybe into Saturday. The forecast today has gone from a winter storm watch to a winter storm warning with totals in the piedmont any where from 5 or 6 inches to 10 to 12 depending on where you live. Early forecasts had it starting tomorrow morning others have it waiting until later in the day.



[Top]
---
Friday 18 December 2009
[Last Week] [Monday] [Tuesday] [Wednesday] [Thursday] [Friday] [Saturday] [Sunday] [Next Week]

---
No precipitation when I left for work this morning. The schools had already announced a two hour early dismissal to get the kids home before the "weather" started coming in. Again, the weather folks could not decide when it would start and how. Turns out snow started falling a little after noon in some places. It was coming down pretty good downtown around 1pm. Those who showed up for work started panicking and left in droves to get home. That is actually the worst time to head out on the roads.

Looking out the building windows the streets were wet and mushy some still down to pavement. Bob called periodically with updates. Around 2 they changed the forecast from some possible sleet and light snow to 1 to 3 inches this afternoon and up to 15 over night with 15 to 30 mph winds. If we do get any sleet or freezing rain with the wet snow we could loose power. Thankfully we have the weekend to stay home and enjoy the snow without having to worry about heading out tomorrow to work.

With only an hour left of my PDO time beyond what I need for my three days between Christmas and New Year I decided to work through lunch and leave at 4pm. That gives me the extra hour for next week just in case.

By the time I left the roads were covered but drivable. Traffic was not too bad until I got to the main road to our neighborhood. I took the back way in to avoid the cars on Reynolda even though it would be less traveled and have more snow. I had the Trooper in 4 wheel and had no problems. It took me the usual twenty minutes to get home.

I changed and took Malcolm out for a walk in the snow. He doesn't love snow as much as Duncan but he will enjoy it better tomorrow once it quits falling. He's not a big fan of wind and wet. We walked down to the corner to watch the neighborhood kids sledding down the hill.




[Top]
---
Saturday, 19 December 2009
[Last Week] [Monday] [Tuesday] [Wednesday] [Thursday] [Friday] [Saturday] [Sunday] [Next Week]

---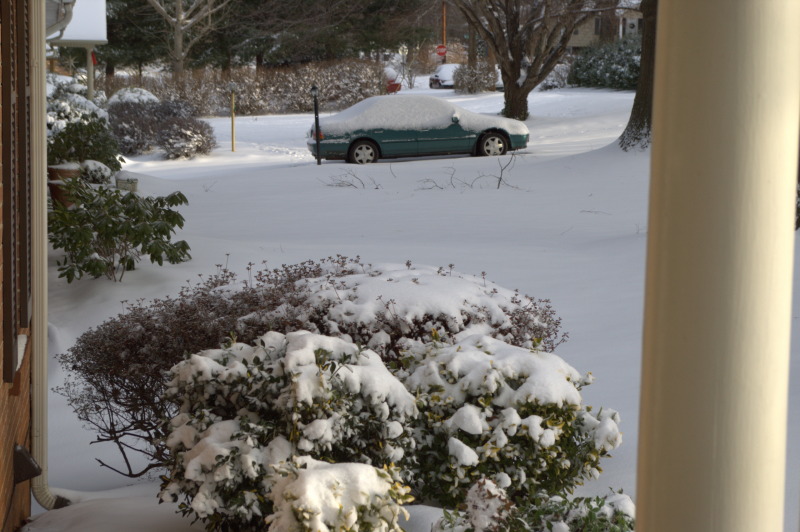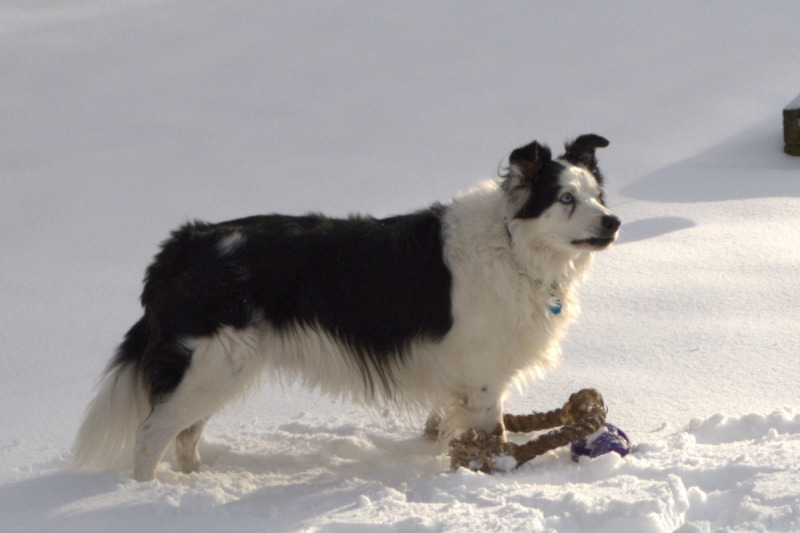 We only had around 5 inches instead of the the promised 10 but it was still more than we've had in many years. I cleared the snow from the bird feeder and filled it plus scattered some on the ground.

It took about 15 minutes to shovel the walk. Malcolm and I played some ball then went for a walk down the street. Not sure what I'll get into today.




[Top]
---
Sunday, 20 December 2009
[Last Week] [Monday] [Tuesday] [Wednesday] [Thursday] [Friday] [Saturday] [Sunday] [Next Week]

---
I started off the day by giving Bob a haircut then ironed up all my work blouses and pants. A quick run through the house with the vacuum was followed by a start on my deep cleaning projects, the worst two rooms in the house, the bathrooms. Our bathroom is really not as bad mainly because it is so small. I took the curtains down, cleaned the inside of the window and vacuumed the blind and washed all the walls down. I just put up a new curtain liner and had washed the shower curtain so I didn't do it. I took all the other window curtains down from the other rooms and had Bob wash all of them instead of waiting to do room by room when I cleaned. They are all basically the same style that I bought years ago from Country Curtains. The ones in our bedroom and bath are white with blue trim, the living room are off white with blue trim and bathroom has rose trim.

After a lunch break I started on the hall bath. The walls are all tile from about five feet or so from the floor up then plaster board. The trend now is to not tile the walls but it was back when we redid that bathroom. I wish now we had not except around the tub. The tile gets grimy from the gas heat and Bob's pipe smoke. I try to wash the walls down more than once a year but they had really gotten grimy. Other than using the tub to store the dirty towel basket, we don't use the tub or the shower but of course the tub still needs to be cleaned periodically.

Malcolm had been pestering all morning to go out and play. He finally got his wish once I finished up the hall bath. He played while I shoveled the flat part of the drive a wide path for the car. They had come by earlier with the scrapper to do the streets in the neighborhood. I tossed the ball in between shovel loads. After a while he finally laid down in the snow and watched. Once I had the snow cleared I threw out snow melt to help dry it off and hopefully prevent black ice in the morning. It's a nice warm 42 degrees unless the wind is blowing making it feel like 38. Regardless I was soaked from sweating by the time I got finished. Lots of sunshine today will help melt off the roads but 27 degrees tonight will refreeze any wet on the road.

I finished the Sister Frevisse yesterday afternoon and started another Dalziel and Pascoe, Good Morning Midnight. It is such a shock to pick his books up after reading anything else. From the beginning you really have to think when you read his stuff to follow what it going on. He starts from page one forming plots and character relationships for the entire book. Looks like we are going to get some Emily Dickinson in this one.



[Top]
---
Copyright © 1998, 1999, 2000, 2001, 2002, 2003, 2004, 2005, 2006, 2007, 2008, 2009 by Barbara Fritchman Thompson. All Rights Reserved.