---


Barbara Fritchman Thompson Diary

Week of 26 July 2010

Latest Update: Sunday, 31 July 2010 12:20 p.m.
---
Monday, 26 July 2010
---
Things were in pretty good shape after my three days off last week. After plowing through my backlog of e-mail I started in on the project I knew I had to get done today. In between working on that stuff I sorted the backlog of filing. The day went by really fast.

I had a haircut appointment at 5:15. It was hot again today but at least the temperatures stayed in the low 90's and the heat index was under 100 degrees. If we don't get rain/storms by tomorrow night I will have to water my plants.

I am reading Covenant Hall by Kathryn R. Wall. Her character, Bay Tanner, runs an investigation service in Hilton Head. This one came out last year but I am just now getting it from the library. Here new one came out back in April.

[Top]
---
Tuesday, 27 July 2010
---
[Top]
---
Wednesday, 28 July 2010
---
[Top]
---
Thursday, 29 July 2010
[Last Week] [Monday] [Tuesday] [Wednesday] [Thursday] [Friday] [Saturday] [Sunday] [Next Week]

---
Pictures from my trip. A creek we crossed over, using a bridge, in the Joyce Kilmer Memorial Forest located in the Nantahala National Forest.





One of the old, knobby trees.




The Bald River Falls was a side trip off the Cherohala Skyway that goes from Robbinsville, NC to Tellico Plains, TN. We did the scenic drive after we finished the hike.



Thursday we did the Great Smoky Mountain Railroad our of Bryson City, NC. It leaves at 10:30 in the morning and arrives back at 3:30. We had an hour layover at the Nantahala Outdoor Center where they do the white water rafting and kyaking.



Fonata Lake, NC from the train part of the Fontana Dam project.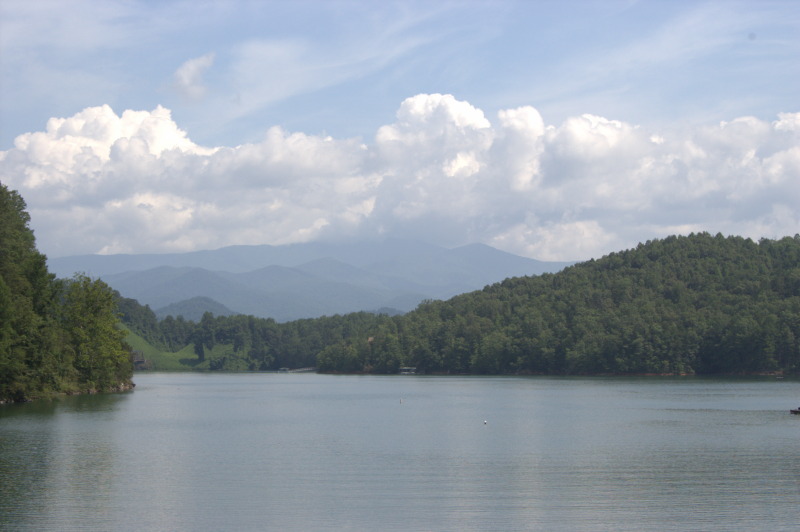 [Top]
---
Friday 30 July 2010
[Last Week] [Monday] [Tuesday] [Wednesday] [Thursday] [Friday] [Saturday] [Sunday] [Next Week]

---
This week I had to work an entire week for the first time since June. The past four weeks I have been taking Thursday/Friday or Wednesda - Friday for vacation days. The early part of the week I was just steady busy. Thursday and Friday were not only very busy but I was not used to working a full five days in a row.

We finally have a break in the hot, humid, muggy weather. I think the high today was mid 80's with tonights low in the high 60's. It is actually bearable being outside.

I am starting a book by a new author for me, P.T. Deutermann. Bob has read some of his non-series stuff and the last book in his Cam Richter series. I reserved the first three in the series for both of us. He has read the first two or maybe all three while I was reading other stuff. The Cat Dancers is the first book in the series. Cam is a former sheriff now running a private investigators agency in Manceford, NC.




[Top]
---
Saturday, 31 July 2010
[Last Week] [Monday] [Tuesday] [Wednesday] [Thursday] [Friday] [Saturday] [Sunday] [Next Week]

---
Since Bob is still dealing with the phone company we did not have to go out and purchase a cell phone or new house phones this morning. I reverted back to my orginal plans which were to go to Lowe's to get some bagged mulch and a bag of black sun flower seeds for the birds.

The rain forecasted for today was not supposed to come in until this afternoon so I had planned to mow and edge when I got home. It was rather cloudy and gray this morning, a good day to go to Lowe's especially the garden area. There was no one there to speak of. On the way out there I stopped off a Walgreens to transfer a few pictures I wanted to print from the thumb drive Bob copied them to.

On the way back from Lowe's it started to lightly sprinkle. I stopped to pick up my pictures and it had stopped by the time I got home. Since the Bermuda was high I had decided to mow with the bagger on anyway. We had only enough rain here to make the grass damp so I mowed and edged as planned. It did sprinkle off and on a couple of times while I was working but was short in duration. I swept up the sidewalk from the edging and put everything away before taking a lunch break then went back out to spread the mulch in the front beds. Just as I finished up the serious rain finally moved in for the day.

I still have clean clothes to put away and to put fresh linens on the bed but that's about it for today other than fixing pizza for dinner.



[Top]
---
Sunday, 1 August 2010
[Last Week] [Monday] [Tuesday] [Wednesday] [Thursday] [Friday] [Saturday] [Sunday] [Next Week]

---
House cleaning this morning then I started on my desk and office. It took awhile to clear all the paperwork and "stuff to do" that I had been accumulating. I have been corresponding via snail mail with an old friend of my dad's we talked to back in January at my uncle's funeral. I owed him a letter for my dad; bills to pay; papers to sort, etc.

It's another cloudy day with the highs to be only in the upper 70's although, like yesterday, the humidity is still pretty high.



[Top]
---
Copyright © 1998, 1999, 2000, 2001, 2002, 2003, 2004, 2005, 2006, 2007, 2008, 2009, 2010 by Barbara Fritchman Thompson. All Rights Reserved.