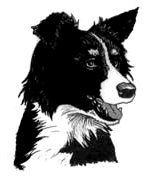 A Day in the Snow
New pictures added January 26, 2004
I guess the pictures from yesterday's snow storm will look a lot like the ones I posted a year ago. Although the ball and ring have since been replaced with new ones. The problem with Malcolm and the outdoor toys... he will not play with a substitute. It has to be those two toys.
The first couple of pictures Bob took early yesterday afternoon when the snow had been falling for a couple of hours.
These are from today. I guess we got about 4 inches of snow then 1/2 to an inch of freezing stuff on top.
February 17, 2003
January 23, 2003
December 11th, 2002
December 4 2002 - It is very unusual for us to get snow this early.
January 3, 2002, I added the pictures from the Border Collie page of some pervious year snows. As you can see we get most of our snow in January and February.
February 22, 2001
A dusting of snow February 1st.
Malcolm's first snow, January 18, 2000.
Updated Monday, January 26, 2004