TTG Home » Barbara Home » Diary Home » 2 April 2001 Diary Page

Barbara Fritchman Thompson Diary
Week of 2 April 2001
Latest Update: Monday, 28 April 2003 07:02

Search Site
[tips]
Monday, 2 April 2001
[Last Week] [Monday] [Tuesday] [Wednesday] [Thursday] [Friday] [Saturday] [Sunday] [Next Week]
An article appeared off the AP Wire in our newspaper yesterday. More foot--and-mouth disease tragedy. The wild sheep who have been roaming the Forest of Dean since the late 12th century are also to be slaughtered. This forest is the setting for Edward Rutherfurd's book The Forest: A Novel, which I just read several months ago. I know to some people those roaming sheep are a pain but the badger's that take care of them and the history behind those sheep and the forest is something I find very interesting.

Very good race yesterday with another barn burning finish right up to the very last lap. So far this season all the young talent has been racing up front while the veterans have been struggling. Dale Jarret did win, but the majority of the race was led by Dale Earnhardt, Jr. and several other young guns came from the back of the field to run up front most of the day.

Busy, busy, day today. Off this morning for my haircut followed by several errands. One of which is to stop and get more top and potting soil to finish the planter I built on Friday. This afternoon I need to mow the lawn, finish that other project, put new cleats in my golf shoes, and do a small load of laundry.

[Top]
Tuesday, 3 April 2001
[Last Week] [Monday] [Tuesday] [Wednesday] [Thursday] [Friday] [Saturday] [Sunday] [Next Week]
Thanks again to Keri for getting the Netwidows our very own domain name and redoing our web site. Now come on folks, I have been checking the site and there are a few Netwidows who have not sent Keri the little bio blurb for the web site. Come on guys, don't be shy.

New pictures of Malcolm up on the border collie page. I decided after I finished working in the yard yesterday that this pair of shoes are too slick on the bottom and need to be retired. Malcolm must have overheard my comment because when I came out of the shower, there he lay on the bed with one between his paws. He carried it around the house most of the day. At least now he does not chew them, so I don't have to take it away from him for fear of him swallowing the pieces.

I finished filling the planter with dirt and potting soil. I will get some spring/summer flowers for planting later in the month. Right now the plant that was in the old wood planter is residing in the middle all by itself. I trimmed up several bushes, picked up sticks, and did general clean up before I mowed. I spent the remainder of the day catching up on diary pages and doing some work. Cream chipped beef on noodles for dinner.

Rainy day again today. Dad and I are supposed to play golf, but it is another cold, rainy day. I need to go to the bank and the drugstore for Lenore so I may as well make the weekly grocery store trip while I am out. I tore down the computer yesterday that Bob and I will be rebuilding today. Last night I finished reading a non-fiction book about the PGA Tour but it was not one of the better ones I have read recently. I hope Marcia survived her mouth surgery yesterday and is on her way to recuperation starting today.

[Top]
Wednesday, 4 April 2001
[Last Week] [Monday] [Tuesday] [Wednesday] [Thursday] [Friday] [Saturday] [Sunday] [Next Week]
Okay, so this is cute Malcolm picture week. Yesterday Bob and I began building the new system and who do you think had to help? Yep, Mr. HardwareDog as Bob has lovingly named him. No way can I let a mistake get past him!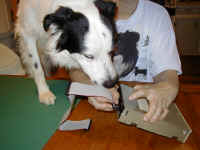 Malcolm and I are installing an IDE cable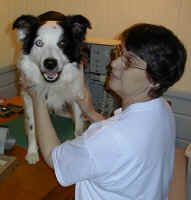 taking a break!
And, no I do not allow my dogs to be up on the kitchen table. But, he is still a puppy and will soon out grow all his silly puppy habits. We keep a baby gate across the kitchen door when we are not around so he cannot pull these stunts when we are not looking.
I fixed an early dinner of beef stroganoff over rice and then headed off to the gym for spinning class. The instructor did the regular 45 minute class and then those who wanted to stay and spin an extra 30 minutes could. I decided since I was not feeling tired to go the full Monty and was glad I did. I felt really good after the workout and not feeling it this morning except for a little stiffness in my legs.
Today it is cloudy and cool but is supposed to clear off by this afternoon. I need to fill in a few places in the lawn with some dirt and seed and spray the bushes for spider mites and leaf rust. Maybe I can do that this afternoon. Bob and I are supposed to work on the new system some more and I need to do some doggy grooming chores.
[Top]
Thursday, 5 April 2001
[Last Week] [Monday] [Tuesday] [Wednesday] [Thursday] [Friday] [Saturday] [Sunday] [Next Week]
Yesterday I worked outside until about lunch time. It was cloudy and cool but not too uncomfortable. After lunch I just was not in the mood to do any work so I headed off to the library to do a couple of hours of volunteer work with the gift books. I left around 2:00 and before I knew it it was 4:30. I called Bob and he said to pick up Chinese for dinner. I worked for another hour finishing up what I was doing and then stopped on the way home with dinner.

After dinner I read until time for West Wing at 9:00, last time out for the dogs, and off to bed to read a little more before turning out the light.

Today I am playing golf this morning with dad. I need to be home by 1:00 or so to get a shower and take Lenore to the doctor at 2:00. When we get back, Bob and I are going out to the Rural Hall library and then stop at the little cafe on the way home for dinner. I seem to be in one of my "not in the mood to cook" weeks which is very unusual for me. A few nights out of the kitchen is what I need I guess.

[Top]
Friday, 6 April 2001
[Last Week] [Monday] [Tuesday] [Wednesday] [Thursday] [Friday] [Saturday] [Sunday] [Next Week]
Whew, busy day yesterday. Golf followed by lunch at my mom's and then home for a quick shower, check my mail and off to take Lenore to the foot doctor. Her toe is better but will take another two to three months to heal. Back home, get her settled and off Bob and I go to the library in Rural Hall. After a quick visit we stopped at the cafe for dinner and back home.

Very cool and cloudy most of the day but it never did rain. We had a few sprinkles on the way to the library but that is all.

Today is bright and sunny with very spring-like weather. I think it is to be in the 80's by the weekend. Off to the gym this morning and back home. I have tons of things on my desk needing attention plus some odds and ends of things around the house. I hope everyone has a great weekend.

[Top]
Saturday, 7 April 2001
[Last Week] [Monday] [Tuesday] [Wednesday] [Thursday] [Friday] [Saturday] [Sunday] [Next Week]
Birds chirping, bees buzzing, trees budding, and bright, bright sunshine. Yes, spring has sprung in the Carolina's this weekend for sure. It was very warm yesterday, high 70's, with a few clouds. It got very warm in the house last night so we turned on just the fan to circulate some air and try and cool things down a bit. With temps going into the 80's today we will most likely have to turn the AC on this afternoon.

I washed sheets, blankets, and a load of cloths for Lenore yesterday and put on fresh bed linens. Time to switch back to the cotton sheets instead of the flannel ones. However, Mother Nature can be very cruel and a week from now we could have cold temps and snow and may even have to turn the heat back on.

I have plenty to do outside and in today. Fertilize bushes, edge and mow the lawn, brush the dogs, clean the bird feeders, etc. The list is rather long but I enjoy being outside. Maybe late this afternoon watch a little of the Masters Tournament from Augusta, GA. Have a great day.

[Top]
[Last Week] [Monday] [Tuesday] [Wednesday] [Thursday] [Friday] [Saturday] [Sunday] [Next Week]
I managed to get all my outside work finished that I had planned to do plus changed the blade on my edger. It was very warm, mid 80's and nice to be outside in shorts and t-shirt. Now, I am not a sun worshiper. I don't even own a bathing suit because I have no reason to wear one. I don't swim in pools anymore and we don't go to the beach. Working in the yard, playing golf and generally being outside I get a farmers tan and that is about it. I wear biking shorts during the winter for Spinning class but sweats otherwise during the winter.

Let me tell you, the glare off my white legs today in the sun was more than likely visible from several blocks away. After I finished up in the yard I was too tired to do much else. I watch the golf tournament and snoozed a little until time to start dinner. Than spent the evening finishing the new Lois Battle from the library.

I see in today's paper they have started a local football team for women. Having grown up playing almost every sport known to man I was relegated to watching the boys play organized sports from the benches. Girls did not participate in men's golf team, little league baseball, or football, all of which I played in my neighborhood. By the time I got to high school my team choices were basketball, softball, tennis, and volleyball. I played all but tennis since that was not my best sport. I had a tendency to swing the racket like a golf club. At any rate, now girls and women can play soccer, baseball, football, etc and I think that is just great. Women's lib aside and all that other stuff, I am just happy that female athletes have more of an opportunity to participate in team sports and not be relegated to watching from the sidelines or playing with a group from the neighborhood. I played one year of basketball for my college team and then switched to Intramurals. I enjoyed it much more and was able to keep up with my grades and classes schedule plus I was not going to be a physical education teacher or turn pro golfer when I graduated. I played intramural basketball all the way through undergraduate and graduate school back in the 70's on both coed and all female teams. I think women who participate in team sports learn how to be part of a team and can take that with them into adult hood when interacting with a group whether it be a fund raiser, rescue group, work environment, etc.

I am much too old to be trying out for a women's football team so I will now have to stick to golf and working out at the gym as my sports activities. I have shot hoops with our friends kids in the recent past and still enjoy picking up a basketball as much as I do a golf club. There are concerns that today's kids are getting fatter and unhealthier by spending too much time in front of the television or game boy. I see a lot of kids on the soccer fields, baseball fields and out shooting hoops in their driveway and feel kids today are just as active as they were twenty or thirty years ago.

Another beautiful day with record highs in the 80's. Clean house this morning and watch the race and golf this afternoon. Grilled steaks for dinner.

[Top]