---


Barbara Fritchman Thompson Diary

Week of 24 August 2009

Latest Update: Sunday, 30 August 2009 2:30 p.m.
---
Monday, 24 August 2009
---
We had a small storm come up last night just as it was time to take the dogs for their after dinner outing. Net amount, 1/4 of an inch of rain, but every little bit helps.
I left work today at 10:45 to provide moral support for Frances who was having out patient surgery. As usual they were running behind schedule. Not so bad on us but how about the people waiting to go into surgery? When they finally took her to the OR, around 2:15 we headed down to the cafeteria for a quick bite of lunch. We were finishing up when they called Al for the post surgery report. All went well. I left to go back to work leaving strict instructions to call me if something unexpected happened during recovery.
I worked until 5:15 then left to go to the gym.
Last night I started another Tapply, One-Way Ticket.
Duncan is pretty much back to his normal self. I am watching his sore places for improvement. We are taking things one day at a time.
[Top]
---
Tuesday, 25 August 2009
---
In loving memory of Duncan

January 1, 1995 - August 25, 2009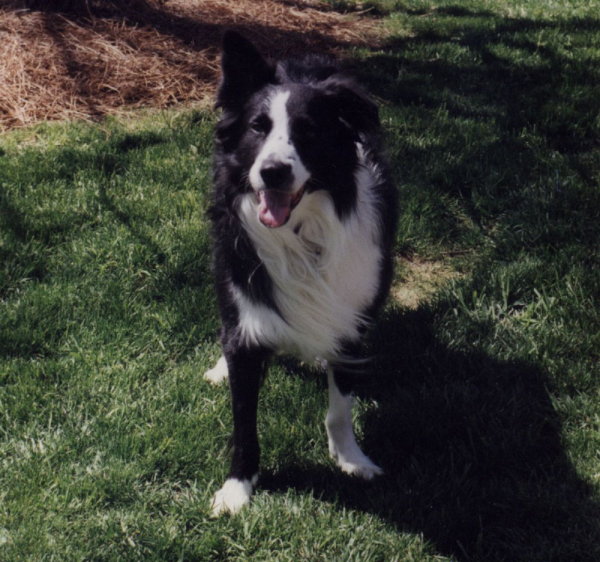 [Top]
---
Wednesday, 26 August 2009
---
[Top]
---
Thursday, 27 August 2009
[Last Week] [Monday] [Tuesday] [Wednesday] [Thursday] [Friday] [Saturday] [Sunday] [Next Week]

---
Thanks for all the kind words and support from both my readers and Bob's. If you haven't seen his post for today he has posted some more great pictures of Duncan when he was a young dog chasing sheep.

The neighbors have also been very supportive as have my co-workers. I worked yesterday as usual then on to the gym. Malcolm helps to fill the void left by Duncan.

I am reading an Aaron Elkins from my TBR shelf, Little Tiny Teeth. Anthropologist Gideon Oliver, his friend John Lau, and his friend Phil who runs a budget travel agency, are taking a trip down the Amazon.


[Top]
---
Friday 28 August 2009
[Last Week] [Monday] [Tuesday] [Wednesday] [Thursday] [Friday] [Saturday] [Sunday] [Next Week]

---
Whew! The end of a long and emotional week. It was not all bad news in the end. Yesterday Frances had a good report back from her surgery and this evening it has been raining a good steady rain for the last hour. We have a few rumbles of thunder but otherwise just a good soaking. Scott's came yesterday to put down an end of summer feeding. I may put out seed this weekend now that the ground has softened up before the leaves start falling again. The early shedding stopped last week with the brief showers we had off and on.



[Top]
---
Saturday, 29 August 2009
[Last Week] [Monday] [Tuesday] [Wednesday] [Thursday] [Friday] [Saturday] [Sunday] [Next Week]

---
I slept in until 8, had breakfast, and then took off to run some errands. On the way to Wal-Mart I stopped by the license tag place to get my Trooper tag renewed. On the way home from Wal-Mart I stopped at Lowe's to pick up top soil and seed.

We had just a little of 3/4 of an inch of rain last night. When I had Malcolm out back to play after I got home I noticed the back was still pretty wet. The front, being in the sun, was dry enough to mow. So, I mowed and seeded the front before taking a lunch break. By the time I finished lunch the back had dried enough to mow and seed it. I set the mowed deck down one notch to get up the leaves and dead grass better.

That's it for today other than fixing dinner. Reading and golf this afternoon.



[Top]
---
Sunday, 30 August 2009
[Last Week] [Monday] [Tuesday] [Wednesday] [Thursday] [Friday] [Saturday] [Sunday] [Next Week]

---
Dad and I played nine holes this morning. It was my first outing with my glasses. Things looked a little different but I will not blame that on my lack of playing ability.

Lunch at the house and a nice visit. I gave Malcolm a quick playtime when I got home, read the paper, and then house cleaning. Bob did the bathrooms for me while I ran the vacuum. After a shower I have bills to pay and my desk to tidy plus a few other things to see to.

Yesterday afternoon Paul called a little after to three to say they were stopping by to drop something off. I was sitting on the front porch reading and waiting on them when a dark cloud suddenly appeared followed by a nice steady rainfall. It did not last long but it did help to water in my seed.

Since Mary is allergic to dogs we stood on the front porch taking and watching it rain. They had brought me a beautiful mixed pot of outdoor flowers in memory of Duncan. I placed it right in the corner of the bed by the porch where he liked to jump down into when he went outside.





[Top]
---
Copyright © 1998, 1999, 2000, 2001, 2002, 2003, 2004, 2005, 2006, 2007, 2008, 2009 by Barbara Fritchman Thompson. All Rights Reserved.